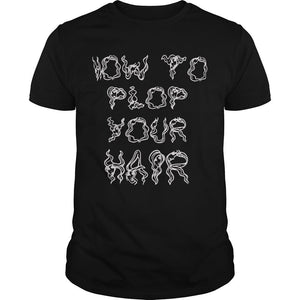 How do you plop your hair with a t-shirt
Remember doing crunch on your wet hair? Plopping is doing the same crunching, but on a large scale. This technique presses your damp hair to your head and keeps it here for a while, resulting in a tight curl pattern with high volume and definition. Plopping is beneficial for those who want to dry their hair out without making it frizz speedily. Plopping absorbs most of the moisture present in the hair along with any other product you have applied during your hair routine. Plopping gets the job done and makes you confidently dry out your hair and style great, but you have to know how do you plop your hair.
How to plop hair with a t-shirt
It isn't a mystery how do you plop your hair. But it needs little practice. Apply hair care products after you shampoo your hair, and it gets damp. Detangle your hair utilizing your fingers, or better use a wide-tooth comb. Spread your shirt on a flat surface and start bending down towards the T-shirt gently. Keep on rolling until your crown touches the t-shirt. Lower the top of the shirt and wrap it around your hair. Stretch arms down towards the back of your neck. Now stand straight and bring arms towards the forehead and tie them together;
make sure the knot isn't too tight or loose—Tuck in any excess fabric inside. Once your hair is dried, unwrap the t-shirt, and you will eventually get to know how do you plop your hair with a t-shirt. Find what suits best for your hair to get dry in the plop. Your hair must form proper curls, and this is easily achievable by getting to know what works best for you.
How to plop curly hair with a t-shirt
Start with your hair wet, do what you usually do to ensure smooth and frizz-free hair. Apply any product or style your hair. Scrunch your hair to enhance your curl pattern and distinct curl to spring-up. Spread your t-shirt or towel on a flat surface. Place your hair in the middle of the cloth you use by bending over and gently plop your curls. Keep leaning toward the t-shirt until the top of your head or crown touches the towel/shirt. Your hair should be all scrunched up this way. Wrap the t-shirt by twisting up any fabric and sticking it at the back of your neck.
Finally, tuck in the twisted part at the end and leave it that way until you feel satisfied. Please make sure the t-shirt must not be the traditional one since it makes your hair strands get caught and hence create frizz. Go for a micro-fiber towel or a 100% cotton shirt. Plopping your hair into clothing is subjective; some may feel it done fast, while some may lag a bit. You have to find the sweet spot for what suits you best. How do you plop your hair with a t-shirt is trial and error basis; you will learn as you get used to this technique.
You may like it: How to fold a t-shirt
---